Ten things as we move into March:
1. Sympathy and tank wishes for the Lakers
Paul Pierce suggested on The Jump the Lakers shut down LeBron James — the guy who wants to be considered the greatest player in history. Mike Greenberg has pointed out the utility of the Lakers tanking after suspensions, trade drama and injuries — including LeBron's groin issue — killed their chances of a high playoff seed.
This is LeBron James and the Los Angeles Lakers — perhaps the greatest player and organization in basketball history. They do not combine forces to tank. They do not make excuses. The Western Conference is hard? Your remaining schedule is tough? The young guys are "comfortable with losing," or whatever passive-aggressive mumbo-jumbo LeBron might use to aim the spotlight away from the ill-fitting veterans the front office — with LeBron's blessing — inexplicably paired with him? (Paying Michael Beasley what was effectively Brook Lopez's salary slot might have been the nuttiest decision any team made last summer.)
Stop.
The Lakers are one game back of the ninth-place Kings, and two in the loss column behind the eighth-place Clippers. They have a chance to win tiebreakers over both. The Kings are solid but inexperienced. The Clippers are ambivalent about making the playoffs. There are 20 games left. LeBron and a surging young core can't overcome those two teams?
LeBron is still recovering from injury. He toggles between Chill Mode and full-on destruction on offense. On defense, he (per usual) hides on the worst opposing player and expends as little energy as possible.
The Lakers have no consistent organizing principle on either end of the floor. That is on every stakeholder: LeBron, Magic Johnson, Rob Pelinka, Luke Walton, and others. They have fallen apart on defense over the past two months. If they want to make a playoff run, that is the low-hanging fruit. They alternate desperately between lineup types and schemes, leaving everyone confused as to what they are supposed to do. They botch switches. One person on the weak side talks and points, but the person he's signaling either doesn't listen or doesn't understand. They lead the league in unrequited pointing.
LeBron is approaching last January's "please trade everyone"-levels of eye-rolling and shrugging:
Missing the playoffs would be a complete organizational failure — even given injuries and (self-created) trade melodrama. There is no way to spin it.
2. The Andre Drummond we've been waiting for
Six weeks ago, I ripped Drummond on "The Bill Simmons Podcast" for no-showing in Sacramento. Two weeks before that, I gave him a "dislike" here for bonking essentially every non-dunk — mostly line-drive hooks — and playing so-so defense. I stand by all of that.
But since returning from the concussion protocol on Jan. 25, Drummond has been a different player. In that span, Drummond is averaging 21 points and 16 boards on 63 percent shooting.
What I've noticed most: his arms and hands. Drummond has always had soft, quick hands — perhaps the best among centers.
But he has never unspooled them quite like this. On pick-and-rolls, Drummond spreads to his full wingspan and moves each arm up and down — blocking passing lanes high and low. He is the windmill on the miniature golf course.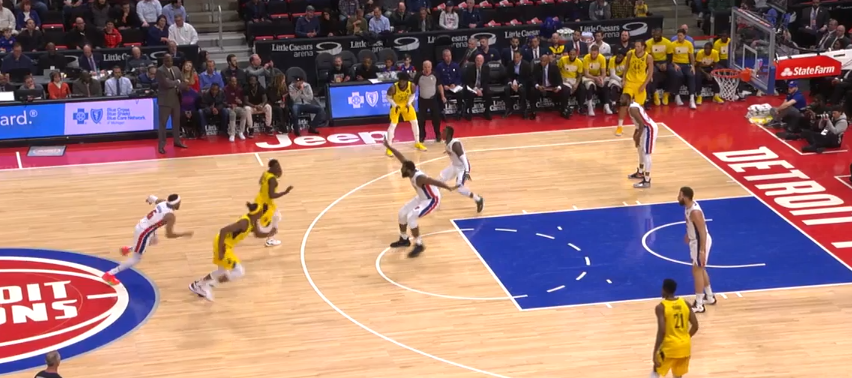 Think you can sneak a bounce pass under his arms?
He has great timing swiping down on the ball:
It sounds easy to keep your arms up. It takes real effort amid the fatigue of an NBA game. A lot of bigs don't do it. Drummond did not do it this often until these past three weeks.
The work is showing up in subsurface numbers. The Pistons are destroying teams since late January when Drummond holds the fort without Blake Griffin — segments that had been a weak spot earlier. Opponents over that stretch are shooting just 54 percent at the rim with Drummond nearby, compared to 61 percent before then, per NBA.com.
He has also stopped forcing offense. Drummond is averaging just 3.7 post touches per 100 minutes since his brief absence, down from 7.5 before then, per Second Spectrum.
This is the best stretch of Drummond's career. It's not a coincidence Detroit has won seven of nine. If Drummond keeps this up, Detroit is going to annoy someone in the first round.
Speaking of big men and arms: I am not sure I recall any big man menacing opposing ball handlers in this style.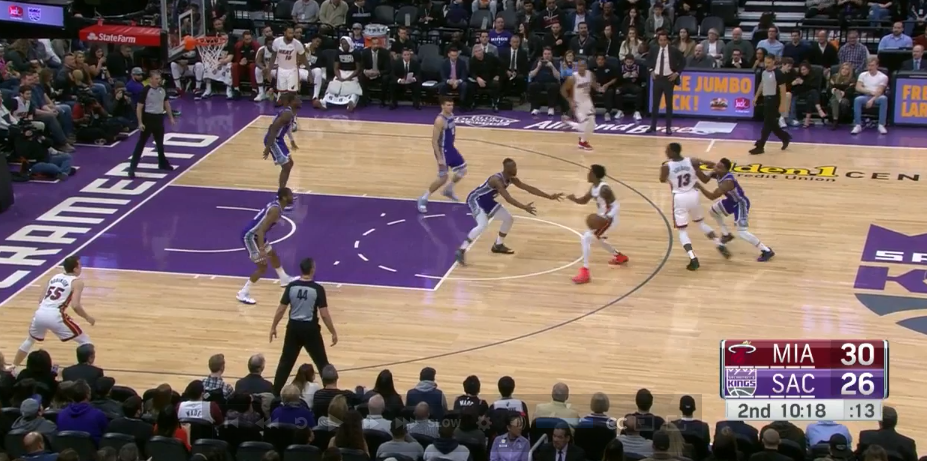 Giles extends his arms this way a lot. It's a little scary. He's a freaking Dementor with those long fingers. He looks as if he's going to crack open your chest cavity and snatch your soul.
Young navigated the first two months of the season with a strange caution. He jacked 3-pointers out of the pick-and-roll at an average-ish rate for a starting point guard. He barely tried step-backs.
It wasn't, like, a crisis. Young knew how to leverage the threat of his 3-point shot to set up both drives and cuts, and immediately established himself as an elite passer with both hands. (Seriously: He has every pass, and he releases the ball a beat earlier or later — depending on what does the most damage — than the typical NBA point guard. Such quirky timing is the mark of genius in a passer.) Atlanta wanted Young to build his game inside-out.
But skills are interconnected. Young proving himself a dangerous, unpredictable off-the-bounce bomber would force defenses to pressure him more — and unlock easier drive-and-kick opportunities. Shooting enables passing.
Young has gotten frisky.
Since Jan. 1, Young is jacking 3s out of the pick-and-roll about six times per 100 Atlanta possessions — fourth most in the league (behind James Harden, Kemba Walker and D'Angelo Russell), and about double his early-season rate, per Second Spectrum. He made five step-back 3s in his first 34 games — tied for 38th. He has made 12 in his past 28 games — seventh most in that span, per Second Spectrum.
Young averaged 23 points and nine dimes in February on 44 percent shooting from deep, and capped the month with back-to-back 36-point eruptions. And this not a case of someone piling up numbers by breaking the offense on a tanking team. Atlanta is 15-18 in its past 33 games. Young hunting for more shots has made the Hawks better.
The amped-up Young has certainly helped John Collins. Collins is shooting 60 percent with Young on the floor, and just 47 percent otherwise, per NBA.com.
This is the Young the Hawks envisioned when they made a franchise-defining bet on draft night.
5. Stop doing this, Joker
There will be skepticism about Denver as a playoff team until it wins a series. That's just how it goes when you haven't won anything, and when your franchise superstar doesn't look like a normal franchise superstar. Can the pressure defense — 16th in points allowed per possession since Jan. 1, though surging lately upon Denver getting healthy — hold up against elite postseason offenses?
We'll see. What we can't see: Nikola Jokic continuing to commit frustration fouls.
This cranky clothesline was Jokic's fourth foul — at the 10:00 mark of the third quarter Sunday against the Clippers:
He sat for the next 10 minutes. Denver extended its lead without him. Can you imagine the (justified) uproar if this happened in the playoffs, and Denver's opponent went on a game-sealing run?
We assume Jokic will flip off the cranky switch in April and May. But stress heightens then. The calls and non-calls that send him off-kilter now will actually matter. We won't know Jokic can chill until he does it.
P.S.: The most effective pick-and-roll combination in the league, according to Second Spectrum data? The inverted goodness of Jokic dribbling around screens from Jamal Murray. Unstoppable.
6. What are the Spurs?
The road-weary Spurs play one style of offense with their starters, and another when DeMar DeRozan and LaMarcus Aldridge rest. They have been bad on defense almost regardless of personnel or scheme.
They have three rotation players between the ages of 23 and 29 — the prime age range in which Kawhi Leonard once centered the roster: Derrick White, Davis Bertans and Bryn Forbes. White is the best player among those three, and by far the most important in projecting San Antonio forward. They also have Lonnie Walker IV and Dejounte Murray, all their own first-round picks, and an extra one from Toronto. San Antonio's coaches were confident Murray was primed for a mega-leap before he tore his ACL. A Murray-White back-court should be spicy — and stifling on defense.
The West could open up if Kevin Durant leaves Golden State. If Murray and White ascend next season, it's possible the current Spurs roster could leap into the fight for that spot.
It's also possible Aldridge and DeRozan drop off some by the time San Antonio's best young players are ready, and that the young core does not hold a perennial future All-Star candidate.
The Spurs are generally cautious. They will probably spend the next year-plus seeing what this group can do. But they haven't coalesced around any identity this season — "I hate 3s" is not an identity — and they face major questions going forward. The next two-plus years represent the Spurs' greatest team-building challenge since drafting Tim Duncan. I can't wait to see how they tackle it.
7. The Anthony Davis situation remains fraught
So this is the grand solution — Davis working under a 20-ish-minute ceiling that has him warming the bench during crunch time, and resting back-to-backs? What exactly is the point of this pretense of competition? What is it accomplishing beyond holding off a potential complaint from Rich Paul, Davis' agent, and a legal battle against the players union? Perhaps that is the only thing this imperfect compromise is designed to accomplish.
It is otherwise superficial — a sham for the NBA to save face. The league would argue such an imperfect compromise is the best it can do under the unprecedented circumstances and its (somewhat self-imposed) constraints. In a way, it is right.
But by allowing New Orleans to transform Davis into a token starter who doesn't even suit up for some games, the league has tacitly acknowledged that the Pelicans have a point in their desire to sit him. And if they have a point — if the league is granting this level of control — then why can't New Orleans manage the situation as it wishes without coming under (wink-wink) threat of a league-imposed fine? How dumb is everyone involved going to look if Davis tears his ACL jogging through the first six minutes of a meaningless April game? We all know what Mike Ehrmantraut said about half measures.
The Pelicans are not trying to win by giving Davis the Keith Bogans treatment. They are barely even satisfying Davis' request to play. Did Davis specify he was cool sitting out crunch time? If someone wants to play, doesn't he want to play high-leverage minutes most of all?
This is all very silly, and the league just wants everyone to look away until the season ends and the Pelicans trade Davis. That's what most fans and media will do. Hooray, I guess.
Lowry has been weirdly passive all season with Kawhi Leonard also on the floor. Some of it was pure of heart: making the extra pass to lift others — especially Serge Ibaka (in the half court) and Pascal Siakam (in transition). (Lowry might be the league's best hit-ahead passer.) Some stemmed from lingering back issues. But his game tilted out of balance. Lowry would forfeit scoring chances without dribbling or looking at the rim, and hand the offense to someone in a worse position.
The lack of aggression almost seemed aggressive: Was Lowry throwing a prolonged, subtle tantrum over the DeMar DeRozan trade, or some other gripe?
Lowry is still Toronto's second-best player. The Raptors need him to hunt scoring chances when appropriate. They need defenses to fear him.
That Lowry is back. He is tearing up the floor and finishing through contact at the rim:
He's firing away from deep when he's open, and sometimes even when he's not. He's cutting to score. Almost all of his extra passes are productive now; he'll kick out of contested layups to get good shooters wide-open corner 3s. (Have you checked Siakam's percentage from the corners lately? Whoa boy.) His usage rate with Leonard on the floor is still too low, but he's playing with purpose again.
To make the NBA Finals, the Raptors need this Lowry all the time.
9. A few playoff-relevant rotation worries to monitor
• Houston's power forward situation (it has only one, unless it shoehorns Kenneth Faried there) and the possibility the Rockets wear out PJ Tucker.
• Orlando resting all three of Nikola Vucevic, D.J. Augustin and Evan Fournier. The Magic in those minutes have both Aaron Gordon and Terrence Ross on the floor. Such lineups have no passing hub on offense, and have struggled to score all season. They bled points in Orlando's disastrous fall-from-ahead loss in New York on Tuesday — a loss the red-hot Magic will regret if they miss the playoffs. (Rebounding with a win Thursday over Golden State eases the pain. These lineups did well in that game, with Isaiah Briscoe back in Jerian Grant's place. I still don't trust them.)
• Portland banishing Zach Collins and Meyers Leonard in favor of Enes Kanter. Collins will surely get another sustained chance. Kanter can score against anyone, and Portland's up-and-down bench mobs need a fulcrum.
But Terry Stotts' faith in five-man bench mobs has wavered; he now often keeps one of Damian Lillard and CJ McCollum on the floor for entire games, or limits all-bench time to only two or three minutes.
With one star on the court, Collins will be a better fit than Kanter in some matchups. He's a better shooter, and a much more reliable and versatile defender.
• The Clippers might have lost more than they realized in the Tobias Harris deal. They are permanently small, relying on three-guard lineups, and aimless on offense until Lou Williams and Montrezl Harrell hop off the bench. Opposing defenses can throw everything at Danilo Gallinari now.
10. Mitchell Freaking Robinson
Have you stopped watching the tanky Knicks? Start again now. You will not be able to take your eyes off of Mitchell Robinson. He almost made this space a month ago, with this clip highlighting the peril and promise of his game:
The promise: He spooks Jeremy Lamb without hacking him, or leaping at an eyebrow fake. The peril: He swats way too late at Michael Kidd-Gilchrist's layup, and leaves the glass naked.
Over the past month, Robinson has started ironing out the "peril" part. He's fouling less after spending the first three months of the season hacking everything in sight. He's staying down on more pump fakes and hesitation dribbles, and keeping his hands up while tracking smaller guys on switches:
And he is blocking the holy hell out of everything. He is Billy Madison against the elementary school kids.
Robinson is averaging 5.5 blocks per 36 minutes over his past 15 games. No player has even sniffed that mark over a full season in almost 30 years.
He leads the league with 13 rejected 3-pointers, one more than Ben Simmons and Jrue Holiday, per Second Spectrum. Holiday and Simmons have both logged more than 2,000 minutes. Robinson hasn't cracked 900. You are not supposed to obliterate 3-pointers with this frequency.
He already has real gravity as a lob threat on offense; defenders stick close to Robinson on the pick-and-roll in fear of an alley-oop, and that fear opens driving lanes for New York's ball handlers. Robinson is a voracious offensive rebounder.
He remains a liability on the defensive glass — an overeager block-chaser who doesn't box out enough. He can get lost in space when the Knicks are in rotation; you can sometimes spot him turning his head back and forth, frantically and Bargnani-esque, in search of the ball. He still fouls too much.
But Robinson has made progress already, and he has the potential to be special on defense — a fearsome rim-protector with the quicks to stay on front of guards on switches, and the fast-twitch springs to erase their step-back jumpers.