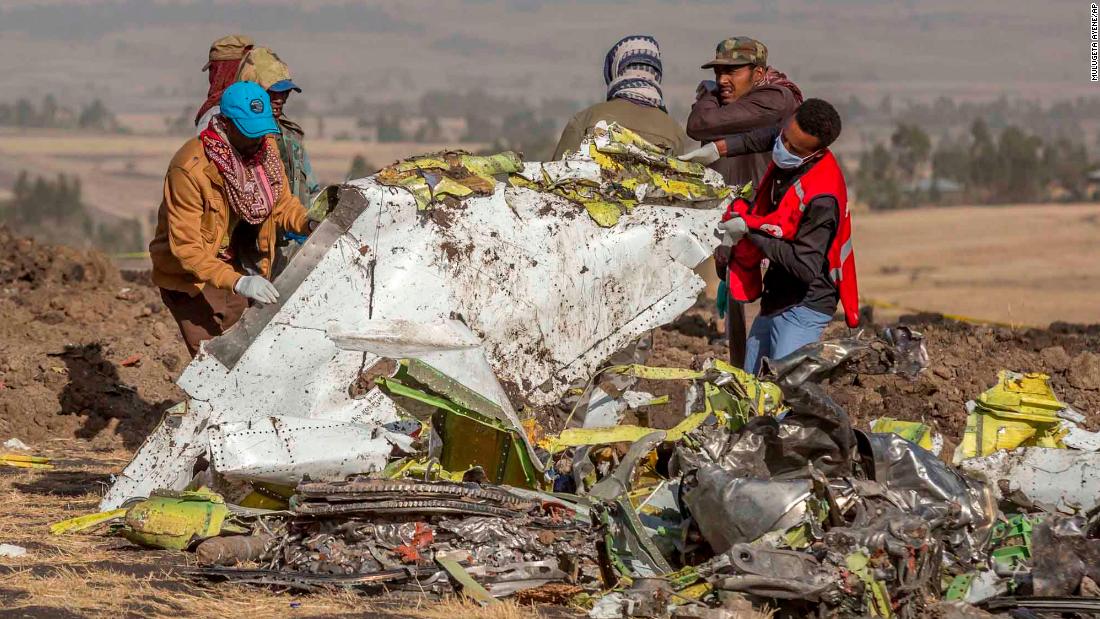 All 157 people on board a 737 MAX 8 operated by Ethiopian Airlines were killed when the plane crashed shortly after takeoff on Sunday. In October, a 737 MAX 8 flown by Lion Air went down off the coast of Indonesia.
Both the Ethiopian Airlines and Lion Air planes were brand-new aircraft. And both went down minutes into flight.
The crashes could result in major consequences for Boeing's 737 MAX 8 program and tarnish the US company's reputation for safety. Boeing stock was down 9% in premarket trade.
The Boeing 737 has been a workhorse on short- and medium-haul flights for decades. The 737 MAX is the latest version — and the company's bestselling aircraft by far. Airlines have ordered thousands of them.
Chinese aviation authorities on Monday told airlines in the country to ground all their Boeing 737 MAX 8 aircraft, citing the need for "strict control of safety risks." Some individual airlines are taking similar action elsewhere.
Boeing has also postponed the debut of its new 777X jetliner, which was scheduled for this week, as it deals with the fallout from Sunday's disaster.
The electric car maker said in a statement late Sunday that prices for most models would go up by about 3% after it decided to "keep significantly more stores open than previously announced."
Tesla had said less than two weeks ago that it would begin shutting most of its stores in a cost-cutting move designed to help reduce the price of its bestselling vehicle, the Model 3, to as low as $35,000.
As part of the plan, customers will have to buy Tesla vehicles online or by phone rather than in person at one of its hundreds of retail outlets.
Tesla still plans to sell the most basic version of the Model 3 for $35,000, which is "excruciatingly difficult" to make at that price, according to CEO Elon Musk.
The 3% price increases will apply to the more expensive editions of the Model 3, as well as the Model S sedan and Model X crossover. The higher prices will take effect on March 18.
"We see the economy as in a good place," Powell said. "We think that the outlook is a favorable one. Inflation is muted and our policy rate, we think, is in an appropriate place. So what we've said is that we would be patient."
But the Fed boss acknowledged the global economy faces major headwinds.
"Patient means that we don't feel any hurry to change our interest rate policy," he said. "What's happened in the last 90 or so days is that we've seen increasing evidence of the global economy slowing down."
Nikkei reported that the carmaking alliance plans to establish a new body that would make decisions on business collaboration. The companies are expected to announce the changes at a news conference in Japan on Tuesday.